Tak Shing Hong wishes you a joyous holiday season!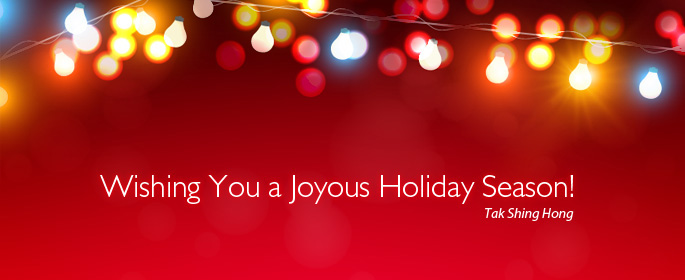 Dear Customer,
The festive season is a time of simple celebration, when we reflect fondly on the moments – and people – that have made the year special for us. We'd like to take this opportunity to share our gratitude for your support of Tak Shing Hong.
Wherever you are in the world, we wish you a beautiful holiday and a fresh, bright New Year.
圣诞临近,新年将至,德成行在此祝您圣诞快乐,新年幸福!藉此机会,我们也想感谢您在过去一年对德成行网店的支持,德成行将继续为您提供更优质的商品和服务!
最后祝愿您有一个愉快的假期,并且在新的一年平安、快乐、幸福!
Yours sincerely,

PRESIDENT, TAK SHING HONG
19 Dec, 2014
You may
unsubscribe
if you no longer wish to receive our emails.
如果您不想再收到我们的电子邮件,
请按此处
。